"Are You At A Loss For
Garage Organization Ideas?"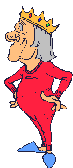 Garage organization ideas are hard to come by when staring at a messy, cluttered, unusable garage. If negotiating your way from the front to the back of your garage is like moving through a war zone in your pajamas, then you have arrived at the right place. We will give you the ideas on how to organize your garage, one step at a time, until you can use it without special maneuvers.
The basic idea is to get your belongings up and off of the floor so that you can park your cars and travel freely around them to get to the door that leads from your garage to your house. This can be accomplished a lot easier than what you may first think! You may need to add some garage wall shelving to get some of the clutter up and out of the way of foot-traffic. We will show you how to do this. You may need to add overhead storage devices to get those less-seldom used items up and off of the floor that will not fit on garage wall shelving. We will give you examples of a variety of overhead storage device sizes that will work for nearly any garage and show you detailed drawings of how to accomplish some of the smaller overhead storage devices that are very inexpensive to install.
You will definitely want to get your garden and hand tools into an organized spot so that they are readily available when you need to use them. There is no sense expending your energy searching for tools in an unorganized garage. It takes up valuable time that you could be using with the tool in hand. We are all short of time these days, so getting at-it quickly adds to overall piece-of-mind. We will show you some great garage organizing tips for hand tools and garden tools that keeps them within eyesight and reach for quick access.
You should consider a workbench when thinking of garage organization ideas because they are a great item for locating larger tools and devices for making repairs on just about everything around the home that requires occasional repairs and fixes. The elevated workbench surface makes the work a lot easier than attempting it on the floor or a box that is unstable.
Finally, you will want to consider garage lighting so that you can adequately light all of the areas of your garage after you have organized it into a usable space. The lighting can make all the difference in the world as to how you use your organized garage, so don't overlook this part of the process.
To see an overall garage organization plan visit our page Garage Storage which shows a typical 2 car garage usage concept. Also, visit our page on Garage Lighting to get a good idea of what is required for general and task lighting in your garage.
For detailed information about specific garage organization ideas, visit the following pages:
Garage Organizers,
Garage Shelving,
Garage Workbench,
Garage Ceiling Storage,
Garage Storage Systems,
Garage Storage Cabinets,
Garage Tire Racks.
Return from Garage Organization Ideas to GarageTips-101, Home Page
---