"Would You Like
Hoist-able
Garage Storage Systems?"
If you don't want to use a ladder to access your garage storage systems near the ceiling, then why not consider a hoist-able platform that you can raise and lower while your on the floor with a simple crank device. This type of set-up eliminates the need for you to get on a ladder to bring down a heavy item that you are storing near the garage ceiling. They are simple to operate and will carry loads up to 250 pounds on a 4' x 4' platform. They can be great part of your overall garage storage plan!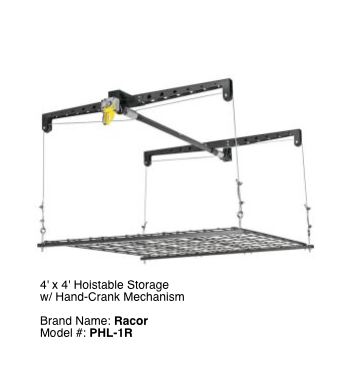 The storage system shown at the left manufactured by Racor accommodates items such as file boxes, outdoor furniture, lawn mowers, snow blowers, tires, camping and fishing gear, and other items that you only use seasonably. It features heavy-duty steel support beams and a vinyl coated steel cable with hand crank.
The lift can lower 8' down from the ceiling to bring the stored items right to where you have easy access to them. It comes with installation hardware and some assembly is required at the time it is installed. These units are great for the elderly or anyone that needs to bring their stored items down to where they can easily and safely access them, without the use of a ladder or other elevating device. We strongly recommend that you consider this type of garage storage if you can't safely use a ladder for reaching those heavy items.


The product at the left is a hoist-able bike / ladder rack manufactured by Racor will carry a load of up to 75 pounds. The unit connects directly to a ceiling joist from the ceiling side and can be mounted parallel or perpendicular to the joists without the need for board mounting as shown on our garage ceiling storage page for the storage racks displayed there. It features a 54' pulley rope to raise and lower it and is equipped with a cam-lock. The unit is constructed from aluminum and features a single point attachment design. The unit comes complete with mounting hardware and measures 38.5" in length. Getting bicycles or ladders up and off the floor when not in use is a great garage storage concept.
When laying out your own garage storage plan you should consider the benefits of garage storage systems that can be worked into your own design. They make access to your stored items so much easier and are up and out of the way of the daily traffic in and through the garage. Consider them as part of your garage storage ideas when doing your preliminary planning for garage ceiling storage so that you can take advantage of every cubic foot of space available.
Next, you may want to take a look at how to use garage storage cabinets for those special items that require secure storage.
Return from Garage Storage Systems to Garage Storage
Return to Garage Organization Ideas
Return from Garage Storage Systems to GarageTips-101, Home Page