"Have You Looked Into
Clopay Garage Doors?"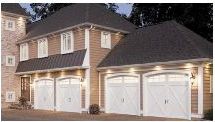 Clopay garage doors are North America's top selling brand for the do-it-yourself weekend warrior that wants to install a new overhead garage door in their garage. Their products are exceptionally well built in a carefully controlled manufacturing process. Clopay® is headquartered in Mason, Ohio and has been manufacturing overhead garage doors for over 50 years. They are the only residential garage door brand backed by the Good Housekeeping Seal.
Clopay® has developed a line of WINDCODE doors that are essential to the homeowner that needs to meet local building codes in Florida and other coastal areas where high wind forces are an annual hazard. They also produce energy efficient insulated doors that are necessary to the upper midwest and Canada.
They offer a complete line of materials and styles to choose from such as natural wood, faux wood, steel/composite and aluminum/glass residential garage doors. The styles range from: Carriage House, Traditional Raised and Flush Panel, and Contemporary to match any architectural styling your home is composed of. The products and consistency are top-notch and your editor's award our coveted Five Star rating to the entire product line.
★ ★ ★ ★ ★
Another great aspect of the Clopay Garage Doors product is their Installation and Maintenance instruction manuals. They have a complete line of residential garage door installation manuals with detailed instructions on the proper installation of their overhead garage doors product. For the D.I.Y. weekend warrior, these are a necessity. They also feature on-line installation videos and a F.A.Q. library.
Door Styles and Materials
Clopay Garage Doors are divided into three basic product lines as follows: The Portfolio Line, The Classic Line and The Wood Line.

The Porfolio Line of overhead garage doors represented by the photo at the left is available in Contemporary and Carriage House styles made in steel, composite or glass. Some collections can be insulated up to R-17.2. All of the collections within the Porfolio Line are classified low maintenance based upon the materials they are composed of. There are a total of five collections within this line with numerous options in styling and exterior hardware. 
The Classic Line consists of three series of overhead garage doors ranked by the manufacturer as Good, Better and Best composed of the Value Series, the Value Plus Series, and the Premium Series as represented by the photo at the left. The Value Plus Series can be insulated with up to R-6.3 and the Premium Series can be insulated with up up to R-17.2. All series are classified as low maintenance based upon the materials they are composed of.


The Wood Line consists of three collections of overhead garage doors that are composed of The Reserve® Collection (Custom and Limited), The Reserve® Collection Semi-Custom represented by the photo shown at the left, and The Classic Wood Garage Doors Collection. Two of the collections have insulation R- Values ranging from R-5.9 to R-6. The manufacturer states that these collections are in the high maintenance category due to the fact that they are composed of natural wood.
The product line and options are extensive and we will cover all of it by style category, so make sure you visit the following pages: Clopay Portfolio Door Line, Clopay Classic Door Line, Clopay Wood Door Line, Clopay Door Details.

Return from Clopay Garage Doors to GarageTips-101, Home Page