"Are You Searching For
One Of The Many Types Of
Garage Heaters?"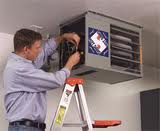 Garage heaters are a broad subject, and with the various fuel sources and delivery systems available, it can be confusing.
We will cover all of the major fuel sources and delivery systems available today so that you can make an informed decision about which type of heater is best suited for your garage.
One of the biggest considerations that will affect your choice of fuel and heat delivery system is how well your garage is insulated, if at all. If your garage is not insulated and you want to stay on the economical side, using heat only when you need it, you will probably need to consider a forced-air furnace mounted in a corner near the ceiling that uses either natural gas or propane fuel.
These type of garage heaters can be installed from ceiling mounted hangers and the air movement directed down toward the floor. They work well for quickly heating the space because of the air volume and higher-velocity discharge. These type of heaters have lots of poof! If you can insulate your garage attic, it would be wise to do so, because heated-air from this type of unit rises quickly and will be hanging on the ceiling or going out the roof.
If your garage is insulated (including the attic) you will have more options such as radiant heat from gas-fired infrared heaters, radiant electric heat from electric grid gypsum board on your garage ceiling, or even baseboard perimeter heating from either electric baseboard units or a gas / propane fired boiler that feeds hot-water to baseboard radiant units.
If you are building a new garage you can go with the ultimate in comfort and convenience by placing PEX-tubing in the concrete floor slab over rigid insulation and then insulate the rest of the garage walls and attic to the maximum. This is the most comfortable and economical heating available as it slowly radiates as energy toward solid objects, heating first the concrete floor slab, then the cars, and so on. The PEX tubing can be supplied with hot water from a small wall-mounted boiler that is fueled by either gas or propane, and if you live far enough south in North America, you can use an electric water heater.
If you simply want to heat a work-space area in your garage you can use wall-mounted electric space heaters that have a small blower inside the box and a few variance settings for how hot you want the element to get. These also usually have a thermostatic control so the unit can cycle on and off. These are a good solution if your garage is not insulated and you are not trying to heat the entire garage space.
We will cover all of these types of garage heaters for you in detail so that you get a bigger picture of what is involved. Most of these various types of heaters can be installed by a garage owner with moderate skills and tools.
For more information visit our pages:
Garage Furnace Heaters (ceiling mounted),
Infrared Heaters (electric),
Wall Heaters (electric),
Baseboard Heaters (electric),
Radiant Heat (ceiling),
Radiant Floor Heating.
Return from Garage Heaters to GarageTips-101, Home Page
---
Do You Have A HOT Story
To Share About Garage Heaters
Share you story with our readers about how you heated your garage!

If you have photos or graphics that help explain your garage heater project, feel free to upload them.