"Are You Unsure About Which
Garage Flooring Material
Will Work Best For You?"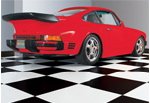 Garage flooring materials can be confusing if you are unaware of the many hazards that some materials will fail under. On the other hand, there are some materials that will work well under any conditions no matter where your geographic location is or what your climate conditions consist of. We will do our best to sort through all of the variables for you so that you can make an informed decision about what material is best for your situation.
Floor paints and epoxy floor coatings are the finishes that can fail the quickest due to bonding problems caused by extreme temperature variations and moisture conditions below the floor surface that rise through the concrete floor by capillary action and break the bond between the finish and the concrete floor surface. If you are interested in epoxy floor finishes we recommend that you read our pages under the Epoxy Garage Floor category before proceeding.
Loose laid interlocking flooring materials seem to work under any conditions. These consist of rubber and/or vinyl tile squares that have interlocking connectors on their perimeters. Then there is high-impact copolymer decking, sometimes referred to as race-deck flooring that actually sits a little above the concrete floor surface and also has an interlocking perimeter mechanism that keeps it from moving.
You can also consider polished concrete for an existing or new floor surface finish. This is the latest in Man-Cave floor finishes that will work in any climate under nearly any conceivable circumstance, and if your working with a new concrete floor, you can put heat-tubing in the concrete for a nice uniform radiant heating system.
We will cover all of these flooring applications for you in detail so that you can proceed with confidence. For more information on the above mentioned floor finishes and more, visit our pages:
Race Deck Flooring,
Floor Paint,
Floor Tiles (recycled),
Floor Coatings,
Polished Concrete.
Return from Garage Flooring to GarageTips-101, Home Page
---
Do You Have A Garage Flooring
Story To Share?
Share your story with our readers and tell everyone how you approached your garage flooring project.

If you have photos, feel free to upload them. We all want to hear how you approached your project.