"Have You Considered
Garage Floor Coating
With Thompson's Water Seal Products?"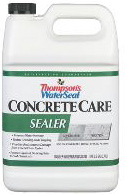 The simplest garage floor coating you can apply as a finish, is Thompson's® WaterSeal® Concrete Care Sealer. This clear finish product provides superior protection from the damaging effects of water and makes your garage floor much easier to clean. The product also provides resistance against cracking and chipping and de-icing agents such as salt and chemical snow melters that can be tracked onto your garage flooring by your cars undercarriage.
Surface Preparation
The manufacturer recommends that you first thoroughly sweep the garage floor surface of all dust, debris or loose material. Then clean the surface thoroughly with a cleaner to remove all oil, grease, mildew and other contaminants. After rinsing, if any water puddles appear on the surface (bird baths) then squeegee away the excess and allow to dry. If you have a newly poured concrete garage floor, make sure it is at least thirty-days (30) old before applying product.
Product Application
Application of this product is a snap. The manufacturer does offer a few preemptory cautions though, as follows:
♦ Do not mix with other waterproofing products.
♦ Do not thin.
♦Do not apply below 40° F.
Apply to your garage floor using a brush, roller or plastic pump up sprayer. DO NOT OVER APPLY. Only one coat of this product is necessary. If puddles should appear, wait 5 minutes then remove the excess product by re-distributing to dry areas. White deposits may occur if the product is over-applied to any area of the concrete floor. Allow 2-4 hours drying time. Drying time will vary though depending upon the age of your concrete garage floor, the air temperature and relative humidity at the time of application.
One of the very nice features about this product is that after it has completely cured (about one week) you can apply oil-based paint or stain over it as a garage flooring finish. Latex coatings may may be used only after an oil-based primer has been properly applied. This product makes a fantastic garage floor coating.
Editor's Note: We have used this product for about fifteen-years on concrete warehouse floors and the exterior docks attached to them and highly recommend it. It has always over-performed for our needs even under heavy fork lift traffic.
Clean up for this product is a breeze requiring only soap and water for the tools used in the application procedures. Visit the fine people at Thompson's by visiting their website at: www.thompsonswaterseal.com, today!
Return from Garage Floor Coating to Garage Flooring
Return from Garage Floor Coating to GarageTips-101, Home Page