"The Overhead Door Garage Door Opener
Is The Gold Standard?"
The Overhead Door garage door opener units are the gold standard by which all other brands are measured for residential purposes. Invented in 1926 by the founder of the Overhead Door Corporation, these units continue today to provide exceptional value and service. They offer ten garage door openers for residential garage doors, three of which are featured below.
Destiny 1500 Screw Drive
★ ★ ★ ★ ★

The Destiny™ 1500 model shown at the left features the direct screw-drive system and is the ultimate in power, reliability and fast operation with a patented drive system. This unit is intended for use with sectional doors up to 14' in height and one piece doors up to 8' high.
The unit features a 1HPc* 140V DC motor. It operates at a maximum speed of 12" per second and listens for both 315 or 390 Mhz frequency calls emitted by the remote or wireless keypad allowing reliable operation even in areas with frequency interference. Included as standard is DoorDetect™ monitoring and diagnostic technology that delivers the optimal amount of DC power needed to efficiently and smoothly open even the heaviest garage doors.
The Destiny™ 1500 overhead door garage door opener power head contains two bulb lighting with motion detection delivering additional convenience and security along with CodeDodger® technology that selects a code from billions of combinations each time a remote or wireless keypad are in use. This aids in the prevention of pirated radio signals for the utmost in security.
The unit is maintenance free with no gears, chains or belts to lubricate and includes HomeLink® and Car2U® systems. This unit is a great value when ti comes to garage door openers considering it's many features and the long-standing reputation of it's manufacturer.
Legacy 800 Belt Drive
★ ★ ★ ★ ★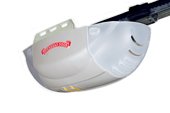 The Legacy® 800 model shown at the left is the Overhead Door® garage door opener intermediate cost unit. It features a 1/2 HPc* DC motor that is capable of lifting a garage door up to 500 pounds in weight. The drive mechanism has a dual-pinion drive gear system for extended durability.
The unit has a reliable frequency range to ensure consistent operation and a two bulb lighting system. This model is HomeLink® and Car2U® compatible and also features the CodeDodger® access security system for the remotes and offers easy programming.
The belt consists of a toothed continuous belt that rotates about a gilmer gear at each end of the unit. It provides quiet and smooth operation and requires no maintenance beyond occasional tightening of the belt which entails a simple turning of a bolt.
Standard Drive - Chain
★ ★ ★ ★ ★

The Standard Drive® Chain model shown at the left is the ultimate in value and reliability. It features the 1/2 HPc* DC motor that operates with variable speeds for a soft start and stop producing less wear and tear on your garage door.
The unit features one light bulb to illuminate your garage and includes all of the remaining features of the Legacy 800 unit. The chain requires occasional lubricating depending upon the amount of dust, dirt and usage it is exposed to in a given local. It utilizes the same tightening feature as the belt drive systems.
All overhead door garage door opener residential units come with a self-diagnostic safe-t-beam system so that when objects pass through the infrared beam, the door automatically stops closing and then reverses.
The garage door openers featured in this article require professional installation. You should contact your nearest Overhead Door® Dealer for a full description, and installed pricing, for each and every unit they manufacture. They can help you choose the right unit for the weight and type of garage door that you have.
If you are seeking a nearly identical in quality garage door opener to the units shown in this article, that you can easily install yourself, then visit our page: Genie Garage Door Opener for a full review of the four products designed for the home-handyman / do-it-yourselfer.
(*Horsepower comparible (HPc) designates that the specified garage door opener meets Overhead Door's lifting force specification for the numerical horsepower rating).
HomeLink® is a registered trademark of Johnson Controls Technology Company.
Car2U™ is a registered trademark of Lear Corporation.