"Do You Need
Outdoor Garage Lighting
For Areas Around Your Garage?"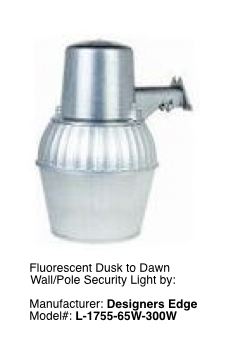 If you are looking for an outdoor garage lighting fixture to light up parking areas around you garage or driveway approaches, then consider the fixture shown at the left. It is a low energy consumption fluorescent that delivers 300 watt equivalent of lighting power to the subject area.
Depending on the size of your garage and how you use the space around it, you could completely light the perimeter with three or four of these fixtures mounted to the building. A few more pole-mounted fixtures would light the average driveway approach, at least the drive area approaching the buildings and surrounding areas.
This garage lighting fixture is made from die-cast aluminum with a natural finish and can be pole-mounted or direct-mounted to your garage building. It features a 9" diameter open bottom one-piece acrylic refractor that eliminates bug-buildup. It comes standard with a replaceable twist-lock photo control for dusk to dawn service eliminating manual switching operation.
The mounting arm (optional) places the center of the light at 18" from the mounting surface. The unit operates on 120 volt service. This fixture unit sells for under $90.00 including the fluorescent tube. Replacement tubes sell for under $13.00. The fixture weights 10.5 pounds and installs with four (4) lag screws or machine bolts (not included).

---
Outdoor Motion Activated Floodlight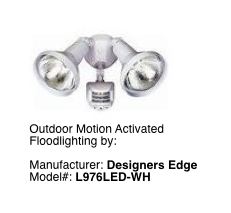 If you are looking for motion activated floodlighting then consider the outdoor floodlight fixture shown at the left for your outdoor garage lighting project near your garage. This unit will add bright LED light to your man-door or walkway areas. The fixture comes completely assembled and quickly installs in just minutes in most locations.
The housing is a durable, weatherproof, white plastic. It features two (2) adjustable swivel-head spotlights that can be directed 220° to exactly where you want and need the lighting. If you need direct security lighting at a door or walkway these type of fixtures are the way to go. Low maintenance LED bulbs are motion-activated. Your garage lighting needs outdoors can be accomplished in a number of ways depending on the security levels required.
Visit our page Garage Exterior Lighting for additional information and alternative approaches using a variety of garage lighting fixture types, or use the search box below to find what you desire.