"Do You Have A Hard To Light
Area That Garage Wall Lighting
Could Brighten?"
If you have a dark spot in your garage then garage wall lighting may be the answer to brighten the area. This solution is often overlooked due to the fact that most all garage lighting fixture types generate high heat that is a burn hazard for animals and humans if they come in contact with them.
Not so with the fluorescent type of garage lighting fixture! They generate little heat (if any) at any point that contact can be made with them. They are ideal for lighting-up that area in your garage where light is needed, and with the proper acrylic lens cover, you don't have to worry about breaking the bulbs.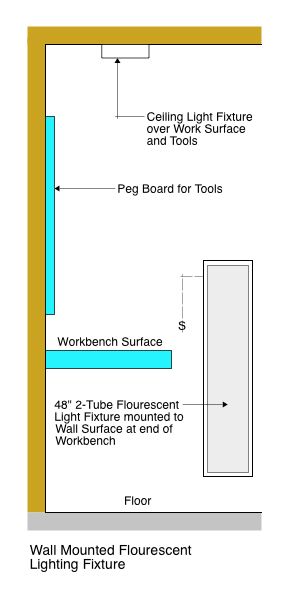 The diagram at the left shows a fluorescent type garage lighting fixture used for illuminating an area near the floor out in front of the work bench so that you can work on a small engine or other project that may be too heavy or awkward to get onto the workbench surface. The lighting fixture is simply mounted to the garage wall at a point above the floor that you determine based upon your needs. You can view our Garage Lighting page to see a plan view of where this fixture can be wall-mounted on the wall at the end of the workbench.
This design approach can be used anywhere in your garage where you may need special garage lighting that the general lighting scheme doesn't accommodate well enough for your illumination needs.
The types of lighting fixtures needed for garage wall lighting can be determined from the criteria listed on our Garage Interior Lighting page.
Garage Tips: Fluorescent type fixtures are lightweight and can be mounted to any wall using 1/4" diameter toggle-bolts. Four (4) toggle-bolts are required per fixture. If you can hit a 2 x 4 stud with two of the pre-drilled slot holes in the fixture frame, then use two (2) pan-head wood screws in those slots and toggle bolts for the other two slots.
Have fun with this and find creative solutions for your garage lighting needs that fall outside of the proverbial box!
If you have high-bay garage ceilings you may want to study our Garage Specialty Lighting page to find garage lighting solutions that fluorescent lighting may not accomplish for you.
Return from Garage Wall Lighting to Garage Lighting
Return from Garage Wall Lighting to GarageTips-101, Home Page