"Do YOU Need
Garage Keepers Insurance?"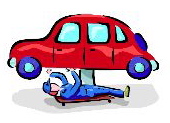 Garage keepers insurance coverage is necessary if you are using your home-garage for doing automobile mechanical repairs and or auto body work or any other type of work in your garage for payment where a motor vehicle is left in your care on property you either own, or control the use of.
When you take someone else's property into your custody it is a form of bailment, and the laws surrounding that action apply. If a customer leaves their automobile with you for repairs, you have the duty of reasonable care of that property until the customer returns and the transaction is completed and the chain of custody passes back to the customer.
Corresponding to that duty of reasonable care, you gain the right of mechanics lien against that property for the repairs you make in the event the customer refuses to pay or gives you a bad check. You can record your mechanics lien in the county where your property and home-business is located.
While you have the customers automobile in your custody making repairs, any number of hazards could arise that would fall under your duty of reasonable care. Theft of the automobile is one hazard. Your garage could burn to the ground destroying your customers auto and that would fall under your duty of reasonable care. Your customers auto repairs could be complete and the vehicle sitting outside your garage while a tornado or heavy windstorm damages or destroys the property. All of these hazards and more fall under your duty of reasonable care while you have custody of the property in question.
The solution to these hazards is Garage Keepers Insurance coverage. It isn't very expensive and generally covers certain types of liability such as death or injury caused by faulty repairs, and of course damage to the property subject to the bailment laws. In most cases it also covers accidental injury to the customer while they are on your property transacting business. An example of this would be a slip-and-fall at the location of a grease spot on your garage floor.
You should review this type of coverage with your insurance agent and find out what hazards it covers, what the limits of the policy are, and what it would cost you per year. It is always best to have adequate insurance coverage for every possible event that could occur even if you have a very small business. It is also a good practice to seek legal advice from a qualified lawyer that can help you discern your liability and give you professional advice on how to shield yourself with the proper amount and type of insurance coverage and by other means.



Return from Garage Keepers Insurance to Garage Insurance





Return from Garage Keepers Insurance to GarageTips-101, Home Page