"Would Flush Garage Doors
Look Good On Your Project?"
Flush garage doors are often referred to as slab doors because they have no raised or lowered panels incorporated into their design. They are very appropriate in an architectural setting where the home is contemporary in styling or where you want to apply surface moldings of wood or vinyl to the surface of the garage door to create a special design effect. Also, they are often utilized on three-car garages that face the street to flatten-out the attention towards that part of the structure. In some settings, non-descript is design par excellence!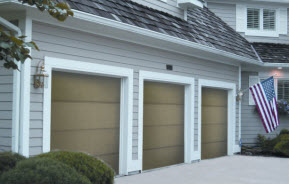 The photo at the left shows flush garage doors manufactured by Overhead Door from their Flush Select 103 Series. This series is non-insulated, but you can get the same doors in the Elite Series with insulation bearing an R-value of 7.3. These doors are very green-conscious as they are manufactured from 88% recycled Douglas-fir.
These garage doors look, feel and sound like wood. The recycled Douglas-fir is fused with exterior grade resins, wax, and sealers and mixed into dry compounds that allow the finished product to resist moisture, splitting, cracking, checking, warping, denting, bending and all of the other problems that flush garage doors manufactured from solid woods suffer.
There is no need to apply exterior primer paint to the surface prior to applying your color coats as the surface is prepped and ready to accept finish paint right from the factory. These garage doors feature an aluminum bottom seal retainer containing a replaceable long life weather seal. This product comes with a 5-year limited warranty.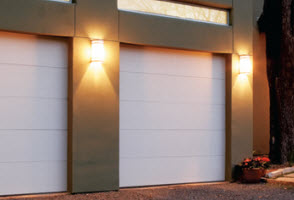 The photo below shows flush doors in a contemporary setting also manufactured by Overhead Door. These garage doors are premium insulated steel that will aid in keeping your garage comfortable in cold and hot climate zones. They are packed with polyurethane insulation with an R-value of 17.5. They feature hot-dipped galvanized surfaces with two coats of baked on polyester paint.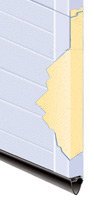 The joints between the panels are constructed with in-between section seals that minimize air, light and moisture infiltration during heavy-wind and rain storms. The cross-section at the left illustrates a cut-away of the garage door construction and the bottom seal. This product comes with a limited lifetime warranty.
Both of the garage door series featured above come in a variety of widths and heights for residential purposes. You should consult your local Overhead Door® dealer near you for exact sizes, styles and pricing.
If you have low-ceilings in your garage, they have special track systems that will accommodate your situation referred to as low-headroom trackage.
Flush garage doors have long been an architectural staple in contemporary and post modern design. They have that perfect understated and subtle quality about them that keeps the street-scape focus on the overall design of the structure. They fit in perfectly to these design categories by complimenting the the entire facade by not drawing too much attention to the area where they are located.
Garage door prices for products featured in this article are: $$$$$
Return from Flush Garage Doors to Garage Doors
Return to Garage Door Prices
Return from Flush Garage Doors to GarageTips-101, Home Page